Darrpan Mehta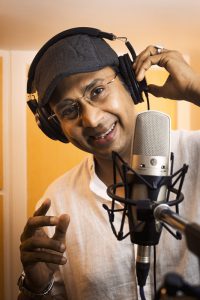 One of the most heard, versatile and trusted commercial Voice Artistes in the country, Darrpan has around two decades of rich experience across the Television, Radio and Corporate Voice Industry. His work has earned him unstinted admiration and impeccable goodwill from the biggest media companies in the Country.
A hardcore family and friends guy, Darrpan is a devoted fan of Bhuvan Bam and is known to take off for solo trips too often for everyone's comfort! His infectious laughter has cured many of their sullen faces.
Over the years, Darrpan's voice has graced thousands of on-air promos of leading TV Channels like Zee TV, Sony Television, Epic TV, & TV, Star plus, Nickelodeon, Discovery Channel and many more.
The 'Voice of all Award Shows' is another nomenclature often appended to Darrpan's name. He has the distinction of being the voice over for almost all the national and international film  & television award shows of India including the Filmfare Awards, IIFA Awards, Screen Awards, Stardust Awards, Indian Telly Awards, Zee Cinema Awards, Big Entertainment Awards, Mirchi Music Awards…the list is endless…
As a digital media entrepreneur, Darrpan Mehta is the Founder and Director of Sugar Mediaz, a multi lingual voice content company known for its rich content services like Radio Content production, Mobile VAS and Digital Content production.
Darrpan is also one of the key Voice industry campaigners in India! He conceived, curated and organized India Voice Fest, India's first ever conference of the Voice over and Dubbing Industry in November 2018! The event saw more than 300 Voice Industry professionals gather to ideate, network, exchange ideas about the craft and business of Voice Acting!
Narration & Corporate AV Voice Samples
Radio Spots, TV Promos & Character VO Samples