One of the most heard, versatile and trusted commercial Voice Artistes in the country, Darrpan has more than two decades of rich experience across the Television, Radio and Corporate Voice Industry. A hardcore family and friends guy, Darrpan is a devoted fan of Bhuvan Bam and is known to take off for solo trips too often for everyone's comfort! His infectious laughter has cured many of their sullen faces.
Over the years, Darrpan has been the brand voice of leading television channels like Zee Network, Sony Entertainment television, Star TV, Colors and many more!
The 'Voice of all Award Shows' is another nomenclature often appended to Darrpan's name. He has the distinction of being the voice over for almost all the national and international film & television award shows of India including the Filmfare Awards, IIFA Awards, Screen Awards, Stardust Awards, Indian Telly Awards, Zee Cinema Awards, Big Entertainment Awards, Mirchi Music Awards…the list is endless…
As a digital media entrepreneur, Darrpan Mehta is the Founder and Director of
Sugar Mediaz
, a multi lingual voice content company known for its rich content services like Radio Content production, Mobile VAS and Digital Content production.
Darrpan is also one of the key Voice Industry campaigners in India! He conceived, curated and organized
India Voice Fest
, India's first and the biggest conference and awards event of the Voice over and Dubbing Industry!
The Travelling Voice Artiste
Having travelled more across than 25 countries, Darrpan is truly the Travelling Voice Artiste since he records voiceovers from around the globe! Catch his interesting travel stories where he shares his experiences and anecdotes!
The storyteller in Darrpan has enthralled viewers with his real life stories from experiences over the years. Click on any video image to watch him narrate stories in his inimitable style.
Want to record with Darrpan?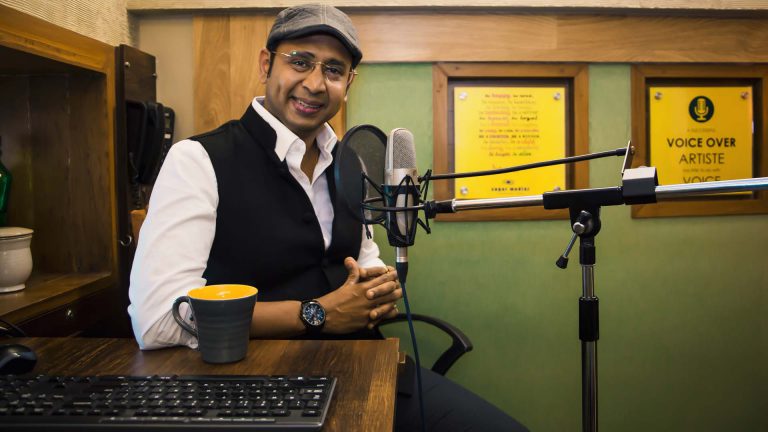 Recording from his professional recording studio, Darrpan consistently delivers great sound for all your voice over requirements!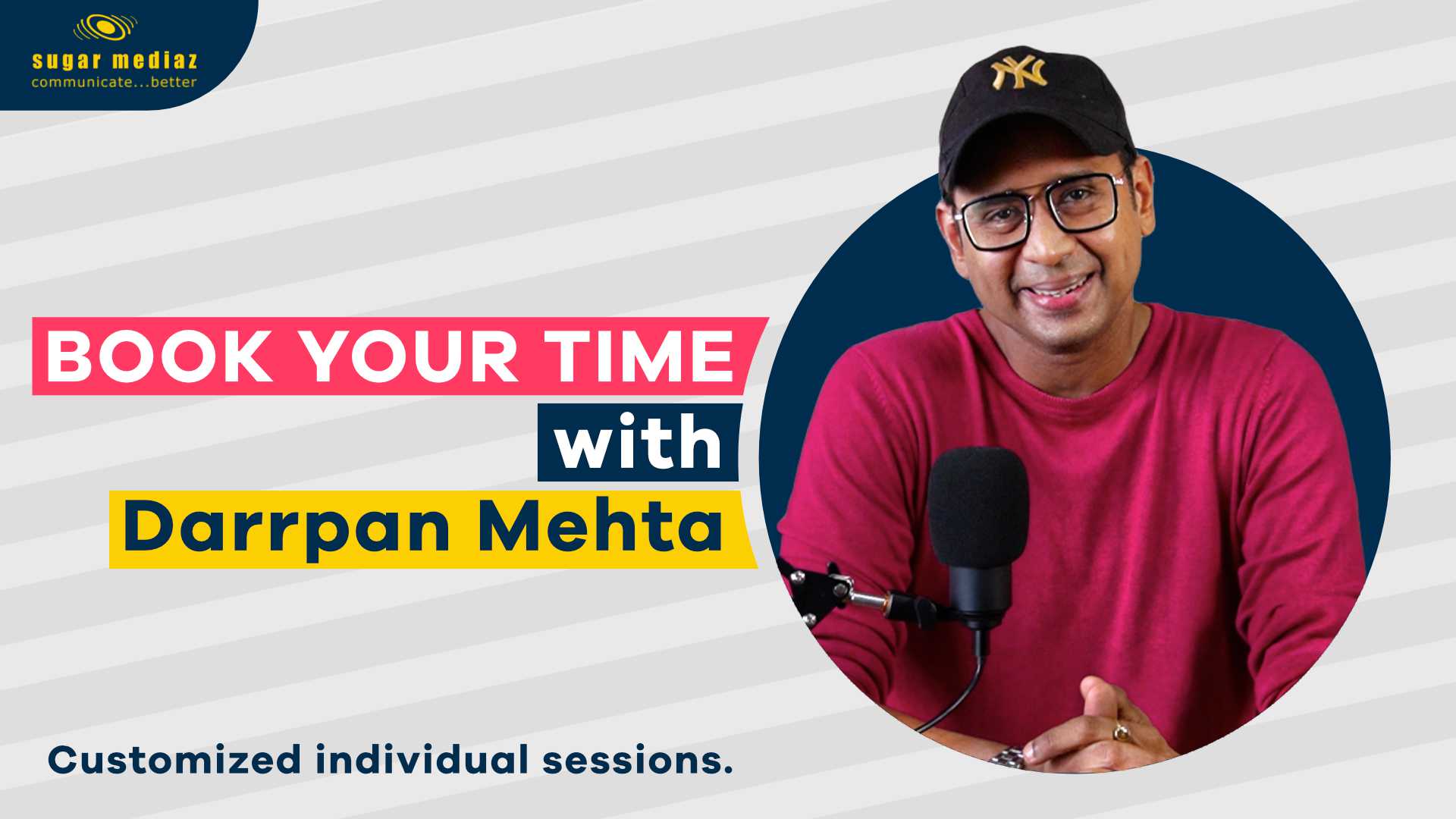 Book an individual session with Darrpan for your voice training needs, performance feedback or a general understanding of the voice Industry.
Corporate Film Voiceovers- Hindi-Darrpan Mehta
Kong Vs Godzilla Trailer-Hindi Voiceover-Darrpan Mehta
Olmypics 2020 Promo-Hindi Voiceover-Darrpan Mehta
Kashmir Audio Visual-Hindi Voiceover-Darrpan Mehta
Tokyo Olympics Audio visual - Hindi- Darrpan Mehta
Mahindra Kabaddi AV-Hindi Voiceovers-Darrpan Mehta
HIndustan Live AV-Hindi Voiceover-Darrpan Mehta
Itna karo na mujhe pyaar-Hindi Voiceover-Darrpan Mehta
Mahindra Kabaddi AV-Hindi Voiceovers-Darrpan Mehta
Prime MInister's Awards-Hindi Voiceover-Darrpan Mehta
Corporate Film Voiceovers- English-Darrpan Mehta
Atmasiddhi Shastra - AV - English - Darrpan Mehta
Axis Bank Audio Visual -English Voiceover-Darrpan Mehta
Indian Oil AV-English Voiceover-Darrpan Mehta
B L Agro AV-English Voiceover-
Darrpan Mehta
Axis Bank Audio Visual -English Voiceover-Darrpan Mehta
Indian Oil AV-English Voiceover-Darrpan Mehta
Skechers Audio Visual-English Voiceover-Darrpan Mehta
Sayes Audio Visual-English Voiceover-Darrpan Mehta
Indicast AV-English Voiceover-
Darrpan Mehta
Yoube Audio Visual-English Voiceover-Darrpan Mehta
Cineyug AV-English Voiceover-
Darrpan Mehta
Prime Focus-English Voiceover-Darrpan Mehta
Radio and Character Voices-Darrpan Mehta
Breathless Waiter-Hindi Voiceover-Darrpan Mehta
Coca Cola Radio Spot-All Voices-Darrpan Mehta
Chatar Patar Radio Ad-All Voices-Darrpan Mehta
Hanes Undergarments Radio-All Voices-Darrpan Mehta
Funny Obituary Radio Ad-Hindi Voiceover-Darrpan Mehta
Gandhi Radio Ad-Hindi Voiceover-Darrpan Mehta
Gujju Dandia Radio-Hindi Voiceover-Darrpan Mehta
Majnu Miyaa-Hindi Voiceover-Darrpan Mehta
AIR Style Voice-HIndi-Darrpan Mehta
Audio Book Narration-Darrpan Mehta
Kshamadaan-Audio Book-Hindi-Darrpan Mehta
A feast of vultures-Audio Book-English-Darrpan Mehta
The Discovery of India-Audio Book-English-Darrpan Mehta
Ghachar Ghochar-Audio Book-Hindi-Darrpan Mehta
Azim Premji-Audio Book-English-Darrpan Mehta
Rajesh Khanna-Audio Book-Hindi-Darrpan Mehta
Mahabharat TV Promo-Hindi-Darrpan Mehta
Kundali Bhagya TV Promo-Hindi-Darrpan Mehta
Teri Meri Ik Jindadi TV Promo-Hindi-Darrpan Mehta
Swaran Ghar Promo - Hindi - Darrpan Mehta
Kum Kum Bhagya Promo - Hindi - Darrpan Mehta
Filmfare Voiceover-Darrpan Mehta
PInjara Khoobsurati ka TV Promo-Darrpan Mehta
Apna time aayega TV Promo-Voice-Darrpan Mehta
Filmfare Voiceover-Darrpan Mehta